Undead Labs took to their site late last night to provide details on surviving in their upcoming XBLA game State of Decay. Surviving isn't as simple as you may think, Undead Labs made sure that this just isn't a zombie smash-and-dash, it will make sure survival is part of this survival-horror game. This piece shows how in-depth it could be and gives a bit of a glimpse into what their Zombie MMO might be. From what I've read already I get the impression that my friends and I can band together, find a place to call home, and then do missions/supply runs, to help build up your fortress.
Everyone who visits our site is super lazy though, so I decided to summarize the information below:
1. Your first priority must be finding a place to call Home.
2. Stealth is the key to survival.
3. Sneaking/scouting plays a role in surviving. Poking around in abandoned buildings or climbing up high to get a better look at how things stand.
4. Walkie-Talkies are used to coordinate.
5. You can use your surroundings to stay hidden and remain stealthy.
6. When you are on a supply run you can walkie-talkie in support. To either aid you if you are in trouble or be your getaway driver.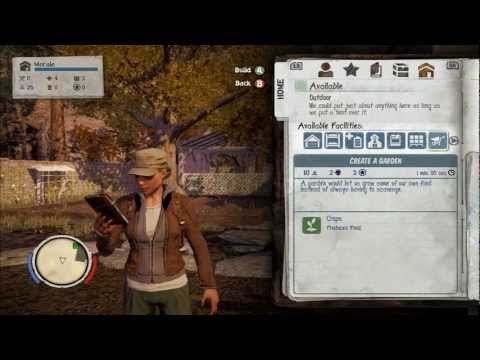 7. Morale matters. The colony of survivors having high spirits can make a big difference. So losing members of the group could affect morale.
8. Survivors might leave your group if they are unhappy, maybe even stealing supplies.
9. Acquiring the building materials necessary to reinforce our walls, upgrading the quality of sleeping quarters, or simply clearing out a nearby Horde — rapidly raises Morale.
10. Your supplies stockpile into five categories. Food/Water, Medicine, Ammo, Building Materials, and Fuel.
11. Ammo is used as currency.
12. Every day, you start with a certain amount of Influence. The more Fame you've acquired with your actions, the more Influence you start with. Every time you take something extra from the emergency supply locker, every time you convince the community to build Garden instead of a combat Training Area, every time you Radio Home to have someone else come collect all that hefty loot you found in somebody's garage, you're spending that Influence.
13. You can communicate with our colonies through radio. Which also means there will be interactions with other groups, which is exciting/dangerous.
14. Building structures like watchtowers has advantages. I am not sure exactly how, but it may give a larger field of view around your hq to see walkers coming.
This is very interesting information in my opinion. I could easily see you being able to rescue NPCs, assigning them roles, and keeping your community going. In an MMO setting I could see the same thing, and be able to level up these people to help defend your place as you are not playing.